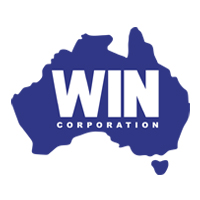 WIN Television is Channel 9s regional channel.

WIN TV is the worlds largest privately owned regional television network and reaches more than 5.2 million viewers across six states of Australia and the nations capital. WIN Television transmissions span from Cairns to Hobart, South Australia and all of Western Australia from Albany to Kununnurra.

WIN Television provides what is well recognised as the most comprehensive news service in Australia. WIN Television produces 18 individual 30 minute local WIN News bulletins every weekday and one 60 minute bulletin seven days a week from 28 newsrooms and bureaus across the country.

WIN was the first regional broadcaster to transmit a high definition digital service 12 months ahead of Government regulatory requirements. Broadcasting high definition digital in Wollongong, Canberra, Ballarat, Tasmania, Mildura and the Southern Queensland market, WIN is continually setting the pace for its rivals.

In Tasmania, WIN is part owner of the joint venture broadcast licence which is Tasmanian Digital Television, offering Channel TEN free-to-air digital programming.


FEEDBACK & COMPLAINTS

Use the Contact Us button to send your views on WIN TV - Channel 9.