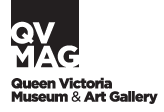 The Phenomena Factory is Tasmanias newest and most exciting interactive science centre!
The Phenomena Factory is a free-entry interactive science centre providing hands-on education for kids of all ages. You can challenge yourself in the Perception Tunnel or test your reactions while you touch, switch, pull and crank your way around the Phenomena Factory, actively learning about science along the way.
Exhibits also include Death at a Distance, Dice with Death, Sniff a Snack, and Squeeze and Serve - all from Questacon, the National Science and Technology Centre in Australia. You will also find the Jaffa Machine donated by Hydro Tasmania which turns human mechanical energy into kinetic energy. Crank the handle and sustain the energy output long enough and youll be rewarded with a jaffa.
The Phenomena Factory was the result of a partnership between Bell Bay Aluminium and the QVMAG. Educational resources are available to download before your visit and after your visit.
Phenomena Factory, located at Launcestons Queen Victoria Museum and Art Gallery, is the largest regional museum and art gallery in the country.
Queen Victoria Museum and Art Gallery, Inveresk
2 Invermay Rd, Inveresk
Open daily Mon to Sun 10am - 5pm
Closed Good Friday and Christmas Day
For more information, please visit the Phenomena Factory webpage via the Queen Victoria Museum and Art Gallery website at the link below.
❊ When ❊
Days
: Monday, Tuesday, Wednesday, Thursday, Friday, Saturday, Sunday
2018-12-17 , 2018-12-18 , 2018-12-19 , 2018-12-20 , 2018-12-21 , 2018-12-22 , 2018-12-16
Time:
10am - 5pm
2 Invermay Rd Launceston Tasmania 7250 | Map
Telephone: 03 6323 3777



❊ Web Links ❊

➼ Phenomena Factory

➼ www.qvmag.tas.gov.au



❊ Also See.. ❊

➼ Queen Victoria Museum | Inveresk



❊ Be Social ❊


Publisher Statement: Details can change at any time. Readers are advised to check with the advertiser (links above) before proceeding.
➼ Advertising Disclaimer




Update This Page