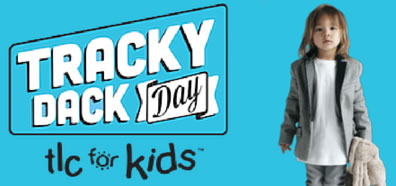 DON YOUR DAGGY TRACKY DACKS FOR SICK KIDS
Arguably Australia's most beloved garment tracky dacks will once again become part of the outfit of choice this May as communities 'dack-up and donate' to raise funds for sick children in hospital.
Since 2012 Tracky Dack Day (TDD) has been a national annual fundraiser for TLC for Kids Australia's only emergency response support for sick children and their families.
The act of wearing trackies is a sign of solidarity with sick children in hospital often encouraged to change into trackies to feel more comfortable. Anyone can take part in TDD by simply choosing any day in May to wear tracksuit pants and donate to the cause.
All around Australia schools businesses sporting clubs and individuals can relish in a day of socially acceptable daggy dress while helping sick kids on their journey to recovery.
Founder and CEO Tim Conolan who was named Australian of the Year Local Hero 2014 for his extraordinary work says the good-humoured day presents a wonderful opportunity to show support for sick kids everywhere.
'For kids in hospital maintaining a sense of normality is vital and as such they're often encouraged to wear trackies around the ward.
'Over the past five years Australians have really championed this fantastic campaign. We've seen everyone from CEOs to tradies taking part.'
Funds raised from TDD will go towards TLC for Kids initiatives such as the RAPID TLC Service the fastest referral system of its kind in Australia providing tailored practical and emotional support to kids and their families within 48 hours and the Distraction Box program which gives healthcare professionals a tool to distract young children throughout painful examinations and procedures.
TLC for Kids was established in 1998 when founder Tim Conolan recognised a gap in existing services which saw children suffering from accidents burns rare diseases abuse and mental health issues missing out on much needed support.
TLC for Kids aims to provide impact services for every child in need. Since its inception the organisation has worked with over 400 hospitals and has provided support over 6 million times making TLC for Kids a small charity with an enormous impact.
To register or donate go to trackydackday.com.au
❊ When ❊
From
: Tuesday 1st of May 2018 To Thursday 31st of May 2018
❊ Web Links ❊
➼
Tracky Dack Day 2018
➼
www.tlcforkids.com.au
❊ Be Social ❊
Publisher Statement
: Details can change at any time. Readers are advised to check with the advertiser (links above) before proceeding.
➼
Advertising Disclaimer
Tags:
charity tracky dack day tracky dacks fundraiser
Update This Page